Vision for the Future
At Singing Earth Farm we believe rebuilding our connection with the land, ourselves and community is the path to a vibrant future.
We are focusing on developing:
Multi-generational Community (family friendly)
Resilient projects that serve the land and the people
Environment to support each other's fullest potential.
Genuine interpersonal communication for improved community relationships
Celebrating life through music and the arts
Simple healthy sustainable lifestyle
Community Overview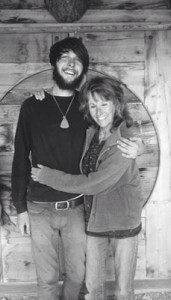 We have an immediate need for 1-3 people interested in the above objectives to join us and work the land together. This is not an employment opportunity, but rather an invitation to make this your permanent home. We are not asking for a long term commitment to be made now, only that you have the desire to explore that option and see if it is a good match for you and the community. You should be financially independent as we are in a remote location and jobs are hard to find. So you may work from home, have a source of residual income, or savings that you can live off of. Alternatively, you may have a plan on how to make a living from the land but just need to find the right location.
We need at least one of those people to be someone passionate about food systems who would be interested in taking the lead on the garden space. Significant experience with Permaculture and managing a garden required and some experience managing people would be helpful.
Community Details
These are not all requirements. We want to paint a picture of who we think will be a good fit
Your Experience/Interests
Education (or similar life experience): PDC Graduate, Bachelors degree in Agriculture, Community Development, Social Sciences or Philosophy,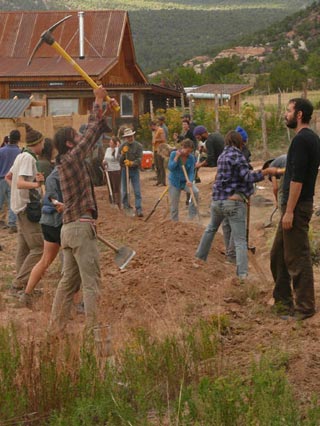 Skills:
– Working knowledge of Permaculture
– Extensive knowledge of plants
– Experience growing food and cultivating land
– Creating and using sustainable systems
– Building/Construction
– Managing small team of people
– Excellent communication skills
– Enjoy physical labor in various climates
Interested In:
– Engaging the Soul
– Communication
– Transparency & Vulnerability
– Connecting with nature
– Creating a project and/or income based on farm activities
– Developing a close relationship with the land
– Sustainable building
– Establishing your own project on the land
– Animal Husbandry
– Biology
Other Interests:
May include music, art, other creative outlets, hiking, meditation, yoga, etc.
Shared Resources We Offer
– Full bathrooms w/ hot water
– Space for yurt/trailer/tent etc.
– Garden – worked together we could increase output to feed more people
– Orchard – needs help to expand and protect from late frosts
– Goat Dairy – milk, yogurt, cheese
– Honey – could use help managing and possibly growing hives
– Eggs
– Monthly participation in purchasing organic bulk food and supplies
Some Things We Have Learned From the Past
Don't rush. Going slow and steady usually works much better in a long run. Speed makes for mistakes. Speed is ok once we master a process. Speed has its place, but is often found where it doesn't belong. Speed is one of today's illnesses. We get a momentum going and we go at a pace that feels comfortable and is sustainable.
Avoid building temporary structures when possible. They usually end up costing more energy, time and money in the long run.
Opportunity We Offer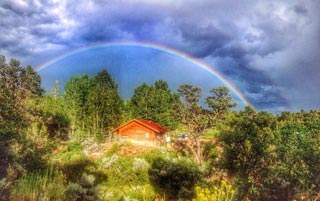 – Beautiful land and community with which to co-create.
– Opportunity to benefit from what's already in place and manifest yourself in a way that nourishes you and the community.
– A place where you can develop your own project, as long as it is in line with the vision of the people already here. Or just plug in and take one of the existing projects further along. For instance, we have a couple of beehives, but the beekeeping could be developed way more than it is. We have a good start on a goat milking herd, perhaps you would want to take the milk and start producing dairy products.
– Sharing a garden with others, which means you are not alone doing all the work. Actually when any of us need or want to leave there is the possibility for others to take over while you are gone. This allows a lot of freedom.
– Supportive community where people are here for you as much as you are here for them.
We are offering a space. Somewhat like in the puzzle of the Universe, there is a specific place where each one of us is meant to be. Maybe you'll recognize Singing Earth Farm as that place for you. If it appeals to you, then get in touch with us.
We look forward to meeting you